Last School of Commonology for 2015 … as you require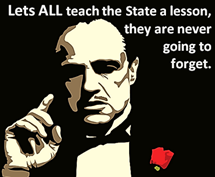 We sent out a quick email last week; to ask People, what their preference was/is, if we could squeeze in a final School for 2015? We offered two options as follows:
A

"Gary Doyle Order"

School, or a School
On

"Revenue/Income Tax"

.
The results are approximated as follows:
15% of People that responded are on the fence, and don't mind either and would commit to either School;
25% of People prefer to do a

"Gary Doyle Order"

School;
60% of People responded, they would commit to a School on

"Revenue/Income Tax "

and associated issues.
As it happens, we are working with five People presently that have very serious issues ongoing with the Tax Man/Revenue. When we say serious, we mean very aggressive, where Revenue are threatening to imprison (as per usual), People. The People we are working with are holding their own.
For the People that would or do prefer to do a Gary Doyle School, there will be aspects of Criminality covered in a School on Revenue/Income Tax, because Revenue (on behalf of the State) treat and charge EVERYONE as Criminals.
To further explain:
A "Gary Doyle Order" is just a fancy way of seeking FULL DISCLOSURE of the EVIDENCE against you, which if you end up in Court facing Revenue, you will lawfully entitled to seek (under the DPP guidelines for prosecutors, the Constitution and/or the European Convention of Human Rights).
This time out we will roll with doing a School on "Revenue/Income Tax", because it encompasses many aspects of seeking the said EVIDENCE under a Gary Doyle Order (as above).
We would recommend; for those attending this final School for 2015, to have read the book "The Gary Doyle Order". If you wish to procure a copy, go to: www.GaryDoyle.eventbrite.com/   
… equally; if you are not attending the final School, we would recommend that you read and re-read the book anyway. Nobody knows when they may be faced with a Minor Criminal Charge, such as Parking Fines, Road Traffic Offences, Licensing Issues, Revenue/Tax Issues etc., and this book (The Gary Doyle Order), is always going to be pertinent and relevant to you.
The FINAL 2015 SCHOOL is on Mon. 7th. Dec. The People that have committed to attending, asked that we give plenty of notice, so that they can and could work the time into their busy schedules, which we have. It has also been made accessible for those wishing to bring along a friend/partner etc.
ALL past Schools on/for "Income Tax" have been packed, we would encourage all those interested to book early. As you may already know, we cannot facilitate People who have not pre-booked, and/or turn up on the doorstep on the day without being pre-booked. Unfortunately we have had to turn People away in the past. This is embarrassing and uncomfortable for everyone, so please do book ahead and as early as possible.
Book your place(s) at Revenue/Income Tax School asap.
More information and booking here: www.reta.eventbrite.com/
Thanks for reading,
The CLS