IPCC investigates 11 for mishandling Greville Janner child sex abuse claims
Police watchdog has served criminal notices for gross misconduct over sex abuse allegations against late Labour peer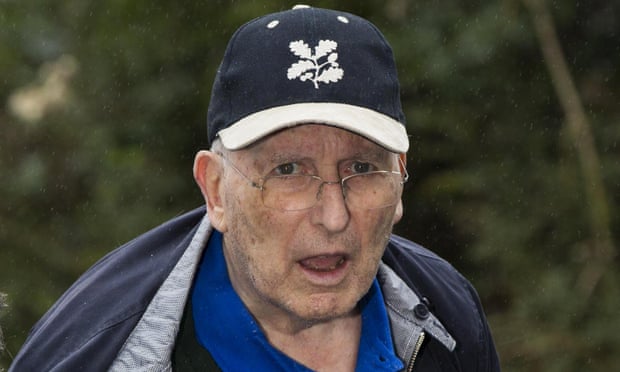 The Independent Police Complaints Commission (IPCC) said it had served criminal and gross misconduct notices on 11 individuals. It did not name those involved.
Lord Janner, who had dementia, died last year aged 87, while awaiting a trial of the facts for 22 alleged sexual offences against nine men and boys.
The IPCC launched an independent investigation into the handling of allegations by Leicestershire police in April last year. Janner was subject to three police investigations between 1991 and 2007.
In a statement released on Monday, the IPCC said: "The Independent

Police

Complaints Commission has served criminal and gross misconduct notices on 11 individuals as it continues to investigate Leicestershire police's handling of child sexual abuse allegations made against the late Greville Janner.
"The IPCC has decided not to name any subjects to ensure that the ongoing criminal investigation is not compromised."
Criminal and misconduct notices are formal warnings notifying the recipients that they are under investigation for either criminal or gross misconduct offences.
The Crown Prosecution Service (CPS) and Leicestershire police were severely criticised in an independent report by Richard Henriques, a retired judge, for mishandling investigations into the peer.
The report showed in sometimes harrowing detail how former residents of children's homes repeatedly made claims of abuse to officials in authority but their claims were not acted upon.
Janner was the MP for Leicester West for 27 years and stood down at the 1997 election.
He was eventually charged with 22 offences relating to nine men and boys following another inquiry in 2013. His family insist he is innocent of any wrongdoing.
Alison Saunders, the director of public prosecutions, decided in April last year that his ill health meant he should not be charged.
But a month later that decision was overturned by an independent review and Saunders reversed her decision, bringing charges against Janner to bring about a trial of the facts.
Janner appeared at Westminster magistrates' court in August and appeared to be confused when asked to confirm his identity, saying "Ooh, it's wonderful."
After a number of court hearings, Mr Justice Openshaw ultimately determined Janner was unfit to plead and a trial of the facts was ordered. In a "trial of facts", the jury is asked to decide – on the basis of evidence adduced by prosecution lawyers and by lawyers who put the case for the defence – whether or not the accused did the acts he or she was charged with.
source: http://www.theguardian.com/politics/2016/jul/25/ipcc-investigates-11-mishandling-greville-janner-child-sex-abuse-claims
———————————————————–
JANNER: INDEPENDENT ENQUIRY: DPP HEAD SAUNDERS STATES "DEEP REGRET" AT NOT PROSECUTING JANNER – IT IS A DEEP REGRET ALSO THERES BEEN A COVERUP 19/01/16 WATCH:
https://vid.me/e/ecxQ?stats=1&tools=1
———————————————————–
Janner's court appearance 14/08/15 + Lord Janner sued by six alleged victims who claim he abused them as children 20/08/15
https://butlincat.wordpress.com/2015/08/28/just-a-minute-janner/
see more in JANNER ARCHIVE:
https://butlincat.wordpress.com/2015/08/13/janner-lawyers-lose-high-court-bid-over-child-abuse-charges-13-aug-2015-bbc/