@drjonesaa‏  drjonesaa  22 Oct. 2016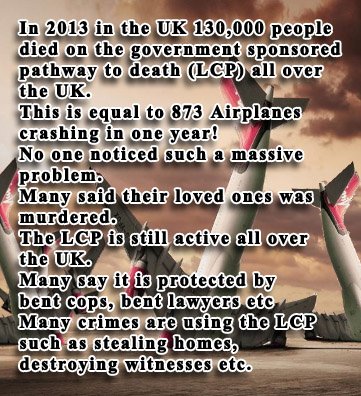 Mark Jones
Chester, United Kingdom
Experts can see no reason for the death of Mavis Banks: my mother.
Chester City Council (after her home), Care UK nursing home (saw mistakes and said she had dementia and then stopped son who also saw these mistakes) and Chester Police detectives (gained by Will) all had conflict of interests.
Also Mavis Banks died under DoLS so Article 2 by jury inquest should have been done but was not even with all the conflict of interests and ignored evidence that shows massive corruption. New evidence further shows mother was on a pathway of death but the CQC report says she was not and hospital says she was and also was not! Also Mavis Banks wanted to live and was starved to death!  We want a public inquest in London. Many lawyers and QC support this.
This petition will be delivered to: Prime Minister of England
---
Letter to
Prime Minister of England
Public inquest in to the death of Mavis Banks. New evidence has shown conflict of interest
Mark Jones started this petition with a single signature, and now has 1,139 supporters. Start a petition today to change something you care about.
Updates
Mark Jones started this petition
Terrible things are being allowed to happen in our care system.
Danny Boyle
, Brighton, United Kingdom
 Families must be listened to and heard. Cases like this happen too often and people die because next of kin are ignored.
Ann Dawson
, Reigate, United Kingdom
 I know Mark Jones for over 20 years and I never met a more honest man. I also know bad behaviour can happen and you cannot screen the most terrible people always, even when they are supposed to be helping the elderly, disabled and disadvantaged in society.
dillon kastner
, los angeles, CA