To: len lawrence  Subject: Fwd: 3.5 Billion Unknowingly Poisoned Each Year? .
His Honour Judge Simon Oliver.
DFJ Reading County Court
Dear Judge Oliver,
                                Could you please explain to the Managing Editors of the Daily Mail, The Telegraph, also to RTTV who have visited and filmed me, why you are entirely satisfied that with acquired brain injury from organophosphate poisoning, and whilst incapable of legal discussion and understanding for 18 months, Slough and Reading County Court would not allow me access to a Court of Protection
Judge  when six, possibly more, Court of Protection Medical Certificates had been issued?   
.
Reading and Slough County Court is near to Heathrow Airport,  one questions how many other airline pilots, cabin crew and passengers have similar experiences to mine, evicted onto the streets of Buckinghamshire whilst incapable of legal discussion and understanding, whilst a patient subject to the Court of Protection, with hundreds of thousands of pounds of adverse cost and inference placed upon me  by  the court at the request of barrister,  Dominic Brazil, 1 Kings Bench Walk Chambers. 
.
HHJ  Simon Oliver what is puzzling is the hearing at Slough County Court on the 4 August 2005 for Mr Alastair Wilson FFAEM FRCS Clinical Director, Accident and Emergency, Royal London Hospital, and others, to be my guardian in the Court of Protection. 
The hearing lasted about 5 minutes, the application was refused, thereafter District Judge Fortgang placed upon me a £10,000 cost order.   District Judge Fortgang did not hold a Court of Protection authorisation!   The £10,000 taken from me went to BP Collins Solicitors, Gerrards Cross, and barrister Dominic Brazil, 1 Kings Bench Walk Chambers.
.
Leonard Lawrence  
Dear Reader,
It's been five months since we sent out our first investigative report about the serious health hazards associated with modern air travel: "Asbestos of the Sky" – The Aviation Industry's Darkest Cover-up.

I wish the title of the article were hyperbole, but it really is that dark, and the cover-up stretches over half a century, being no less devastating to public health than other agendas you may already be familiar with such as Big Tobacco's Smoking-Cancer link and the CDC's Vaccine-Autism cover-up.
The proof is in how many people still know absolutely nothing about the devastating health risks of bleed-air being fed directly into the cabins of planes directly from their engines. Hopefully you are an exception to this!
Thankfully, the tides are beginning to shift. There has been a flurry of global reporting on new research from Stirling University hosted on the WHO's website that confirms there is a clear pattern of and chronic symptoms ranging from breathing and vision problems, to neurological ones like headaches and dizziness in those exposed to the air blown from engines into aircraft cabins.
The Daily Mail, reporting on the new study recently stated: 
'There is a clear cause-and-effect relationship linking health effects to a design feature that allows the aircraft air supply to become contaminated by engine oils and other fluids in normal flight.
'This is a clear occupational and public health issue with direct flight-safety consequences.'
The Telegraph's headline is even more to the point: "New health concerns – and cancer link – over toxic cabin air breathed by 3.5 billion passengers each year"

If you or anyone you know flies, nothing is more important than to what you are being exposed to, and what you can do about it.  I am convinced that consumer pressure on the industry will be the critical factor in reforming the industry, and not top-down political pressure by lawmakers, which will come only much later.
The first positive sign is that Boeing has already developed a non-toxic alternative called the 787 Dreamliner which is the only plane that takes fresh air from outside instead of directly from compressors in the jet engines to supply the cabin. Unfortunately, at this time, it is only rarely used for domestic flights. But consumer education and subsequent demand can quickly correct that problem!
Please share this newsletter with friends, family, loved ones, and health practitioners. Together I know we can make a big difference!
Sayer Ji,
founder of GreenMedInfo
P.S. Like what we do? Please consider becoming a member today to support our mission!Special Investigative Report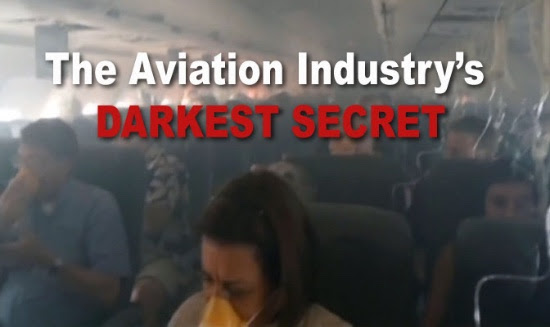 The aviation industry hangs its hat on air travel being "the safest way to travel." The truth, however, is that it has harboured a dark secret since its inception: it's poisoning its passengers and crew due to deeply flawed aircraft design, de-prioritizing safety in favour of profit.   
Click to Read
This film is the first independent investigative documentary film of its kind about the history and the impact of what has become known as "Aerotoxic Syndrome" over the past decades and which is termed by insiders as one of the aviation industry's  "dirty little secrets".  
W
atch Trailer 
Featured Database Section: Aerotoxic Syndrome
Support Independent Media – Become A Member! 
100,00+ Research PDFs Yours With A PRO Membership
Upgrade the evidence-base of your practice or health advocacy with over 100,000 research PDF's. This amazing library is your free with a PRO membership!  
Learn more
Did you know there are no chemical sensors on aircraft to detect and monitor air quality issues?
FAIR USE NOTICE: This item may contain copyrighted (© ) material. Such material is made available to advance understanding of ecological, political, human rights, economic, democracy, scientific, moral, ethical, and social justice issues. This constitutes a 'fair use' of any such copyrighted material as provided for in section 107 of the US Copyright Law. In accordance with Title 17 U.S.C. Section 107, this material is distributed for analysis, commentary, educational and intellectual purposes. In some cases comedy and parody have been recognized as fair use.
Creative Commons Attribution-NonCommercial-ShareAlike 3.0 Unported License. For more information please visit:

http://www.law.cornell.edu/uscode/text/17/107
NB: Everything posted on this site conforms to the meaning of the word "alleged" as defined under UK and US Laws and Statutes.