The DWP is in court again and it could 'open the floodgates' for countless disabled people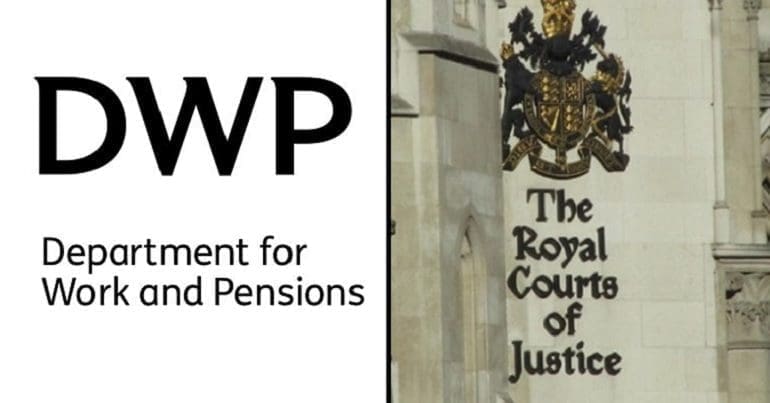 ANALYSIS
THE VIEWS EXPRESSED IN THIS PIECE ARE NOT INTENDED AS LEGAL ADVICE.
The Department for Work and Pensions (DWP) is facing yet more court action, in a case that could "open the floodgates" for countless other people to sue it.
The DWP: in the dock
Daniel Donaldson is a lawyer from Glasgow. He lives with long-term medical conditions which affect his daily living. In 2013, the DWP awarded him a personal independence payment (PIP). But after an assessment in November 2016, the DWP stopped it. Donaldson appealed, and a tribunal reinstated his PIP in October 2017.
But for Donaldson, this wasn't acceptable; partly because he feels the DWP discriminated against him on account of his medical conditions. He believes this was due to some of his conditions being related to mental health. So he is suing the DWP for:
£4,000 for disability discrimination.
£275.34 in bank charges he incurred while the DWP stopped his money.
£700 in lost passport benefits. The DWP withdrew other entitlements once it stopped his PIP.
The Scottish government
He told The Canary that the Scottish government is also named in his claim, because powers over welfare payments were devolved under the Scotland Act 2016. He says that the Scottish government has "done nothing to challenge the discrimination faced by disabled people who receive the PIP":
The Scottish government passes the buck a lot of the time and blames Westminster. This is a deliberate political strategy to try and get disabled people on side, and ultimately, to support independence. But in Scotland, abuses continue on a daily basis. For example, the Scottish government cuts funding to… local government finance and ignores the fact that it will have adverse consequences on disabled people. Likewise, the Scottish government hands out money like sweeties to charities… but does not supervise them to ensure they do not discriminate against disabled people.
A "hostile environment"
But Donaldson's real gripe is with the DWP. He says that, like the Windrush scandal, the DWP and the Westminster government have "deliberately created a hostile environment" for disabled people:
They don't want people to claim their entitlement to statutory benefits. So they make it as difficult as possible to claim, and then 'blame' disabled people as being work shy. They also know they could get away with it, as most people in receipt of PIP or other disability benefit will not have enough personal power to fight back, and challenge decisions in court.
So Donaldson hopes his case may be groundbreaking. His argument for discrimination may well stand up in court. This is because, in December 2017, the High Court in London ruled that DWP guidelines surrounding PIP for people living with mental health issues were "blatantly discriminatory". It forced the government to back down over changes which would have seen 164,000 people lose some or all of their PIP entitlement.
The DWP says…
The DWP told the Herald it "could not comment on this individual case as the legal action is ongoing". But it said it was "absolutely committed" to ensuring disabled people "get the support they need".
A Scottish government spokesperson told The Herald:
We have repeatedly called on the UK Government to halt the roll-out of PIP in Scotland. When the Scottish government begin delivery of disability benefits, we have categorically ruled out requiring anyone to undergo an disability benefit assessment by the private sector.
Suing the DWP
Donaldson's action shows that the DWP's hand could be forced by disabled people. He told The Canary:
We must take a stand together. Please go to your own county court, or sheriff court in Scotland. Pick up a small claims or simple procedure form and consider suing the government for withdrawing your benefit and the harm that caused you [this assumes that you successfully got it back upon appeal]. The more people who try this, and the more it costs the government to respond, the safer this country becomes for all disabled people.

They will think twice before attacking us again if they know it will cost them thousands in compensation payouts. Remember, it is unlawful to discriminate against you in the provision of any public service.
Donaldson is waiting for responses from the DWP and Scottish government. But there will probably be many more disabled people watching his case with interest. He hopes that:
More disabled people will sue the DWP. It is the only way that governments will listen and stop their behaviours.
With the DWP having taken away PIP from nearly 200,000 disabled people in recent years, Donaldson's case could well open up the floodgates. It can't come soon enough.
Get Involved!
– If you think the DWP has discriminated against you, contact the Equality Advisory and Support Service on 0800 800 0082.
– Support Disabled People Against Cuts (DPAC) fighting for disabled people's rights.
Featured image via Wikimedia and Dan Perry – Flickr
Become a Canary member to support fearless independent journalism

source: https://www.thecanary.co/uk/analysis/2018/04/30/the-dwp-is-in-court-again-and-it-could-open-the-floodgates-for-countless-disabled-people/
see related:
The DWP has been caught trying to 'coerce' GPs into saying their patients are fit-for-work
APRIL 27TH, 2018 

 STEVE TOPPLE ANALYSIS, DISCOVERY, HEALTH
Campaigners and medical professionals have discovered the Department for Work and Pensions (DWP) is trying to "coerce" GPs into saying that their sick and disabled patients are fit-for-work. But the revelation is part of a wider DWP agenda, pushing the notion [pdf, p40] that work is a "health outcome". It shows that both the department and government are essentially redefining disability and illness.
Improving lives?
Campaign group Disabled People Against Cuts (DPAC) and a group of medical professionals have written an open letter to the Royal College of General Practitioners and the British Medical Association. In it, they detail their concerns over changes to the way the DWP deals with GPs' fit notes for patients/claimants.
Previously, GPs' fit notes (sick notes) were often enough to prove to the DWP that someone was not fit-for-work. But changes brought in via the Improving lives: the future of work, health and disability green paper in 2017 have stopped this. Now, once a claimant is declared fit-for-work via a work capability assessment (WCA) the DWP ignores [pdf, p2] any GP's evidence and fit notes, except during an appeal.
DPAC, though, has discovered another worrying clause. It's contained in a revised letter the DWP sends to GPs once it decides their patients are fit-for-work.
The DWP knows best
In the ESA65B letter, the DWP states that [pdf, p1]:
In the course of any further consultations with [your patient] we hope you will also encourage [them] in [their] efforts to return to, or start, work.

Essentially, DPAC says the DWP is coercing GPs to cooperate with it to get people back to work. It is this which DPAC and medical professionals say is "co-opting" GPs to bend to its will. DPAC's letter says:
We risk a situation where claimants will feel unwilling to make appointments with their GPs, given the level of fear the DWP and the work agenda elicits, with damaging and potentially life-threatening effects on the physical and mental health of claimants.
https://drive.google.com/file/d/1kLZsvMADkWd4tTSBTwz-xb6-_1Lgbelv/preview
The DWP says… 
DPAC cites the case of James Harrison, who died after the DWP said he was fit-for-work. As Metroreported, Harrison asked his GP for fit notes as he was too sick to attend DWP appointments. But his GP refused after the DWP contacted them to claim Harrison did not need them any more. He later died.
Regarding DPAC's claims, the DWP told The Canary:
The ESA65B form was developed in conjunction with the British Medical Association and Royal College of General Practitioners. The word "encourage" is used in the context of someone being found fit for work, to prompt a conversation with the patient. Should a GP disagree with a WCA outcome, they too can provide medical evidence as part of any appeal. There is no requirement for someone to work during an appeal if they are claiming employment and support allowance (ESA).
A medical professional says…
But Dr Jay Watts, a consultant clinical psychologist and signatory to the letter, is furious. She told The Canary:
The idea that DWP assessors would have a better grip on whether a claimant needs a fit note than their long-term, highly trained GP is an insult. The DWP letter to GPs shows the contempt it has for any task other than that of peak neoliberalism. It equates worklessness with worthlessness. And it fills every encounter with pressure to perform productively.

It is difficult to exaggerate the shame, anxiety and terror claimants already feel. We have an environment where they are actively positioned as third class citizens. Ones who deserve to be punished (sanctioned) if they fail to perform work-readiness in every waking moment. To now pollute the sacred GP space with the government's work agenda would mean many claimants avoid surgeries. This could have devastating consequences for physical and mental health. We call on the medical profession to say no to the DWP. And to preserve the sanctity of the clinical space.
DPAC's revelations about the DWP should be viewed in a wider context. It is one which has seen a seismic shift over the past decade – changing the way the DWP, government, and medical professionals view sickness and disability in terms of work.
Redefining disability
When the WCA was first rolled out in 2008, its purpose was essentially to redefine sickness and disability. As Dr Chris Grover from Lancaster University said, the WCA:
…was essentially to redefine people who under the previous personal capability assessment would have been defined as chronically sick and/or disabled and therefore incapable of doing paid employment,
The Labour government's thinking was that because of the recession, it should "increase the pace" of welfare reform, because sick and disabled people "should not fall out of touch with the world of work". But, as the Guardian noted in 2008, some people might have considered the move a "cynical cost-cutting exercise".
Since then, the WCA has snowballed. The redefining of sickness and disability has too.
A seismic shift
Between October 2008 and March 2013, nearly one million claimants of ESA (which replaced incapacity benefit) were declared fit-for-work. In addition, more than a million others withdrew their claims before going to a WCA. Then, between October 2013 and June 2017, a further [pdf, p3] 760,000 ESA claimants were found fit-for-work, with 1.1 million withdrawing their claims. In tandem, between 8 April 2013 and 31 July 2017 nearly 200,000 disabled people who previously got disability living allowance (DLA) were reassessed as not needing its replacement, the personal independence payment (PIP).
Nearly two million people are no longer sick or disabled enough not to work. The DWP has magically cured them of their illnesses and fixed their impairments. But the march towards a society which views everyone in terms of 'work' and, as Watts said, neoliberal 'financial worth', is not over.
Everyone's fit-for-work
As the Improving Lives green paper outlined [pdf, p43], the next groups of disabled people on the DWP's 'hit list' to get fit-for-work are those living with musculoskeletal conditions and mental health issues.
On 25 April 2018, the government released its first set of data from the Improving Access to Psychological Therapies (IAPT) employment adviser trials. This is where the DWP is co-opting the NHS, by putting [pdf, p72] Jobcentre staff into therapy settings to get people back to work. DPAC calls this "psycho compulsion".
Then you have the continuing controversy over the so-called PACE trial – i.e. DWP-funded research that claims people living with myalgic encephalomyelitis (ME) and other 'invisible illnesses' can think themselves better and return to work. Because obviously their symptoms are 'all in their heads'.
What's more, a freedom of information request (FOI) revealed [pdf, p8] that sick and disabled people who do have a GP fit note but have not had a WCA will be subject to "all work-related requirements" to get their benefits. So now, apparently, you are only sick or disabled when the DWP says you are – regardless of medical fact.
13.9 million people: under the DWP's thumb
DPAC's revelation about the DWP's coercion of GPs is the thin end of the wedge in a decade of what the UN described as "grave" and "systematic" violations of sick and disabled people's human rights. No longer does the DWP allow disabled people choices over their own lives. They are now at the behest of government protocol; jumping through hoops and performing tricks; to be given, like abandoned pets, some meagre scraps from the tax payers' table.
It remains to be seen what the future holds for the 13.9 million disabled people in the UK. The DWP is becoming more and more out of control. And now medical professionals are becoming embroiled in its satanic dance. There is not much more that disabled people in this country can take.
Get Involved!
Featured image via Wikimedia and Wikimedia