Two prison guards beat up a teenage inmate, but that's just the tip of the iceberg for children in prison
LISTEN TO AUDIO OF THIS POST =   https://spkt.io/a/156619
'Frenzy of violence'
Burnett then delivered a series of punches and upper cuts to the teenager's face as his arms were held. Scott joined in the attack and threw punches. The violence ended when other prison officers went to protect the inmate.
.
Attacks and self-harm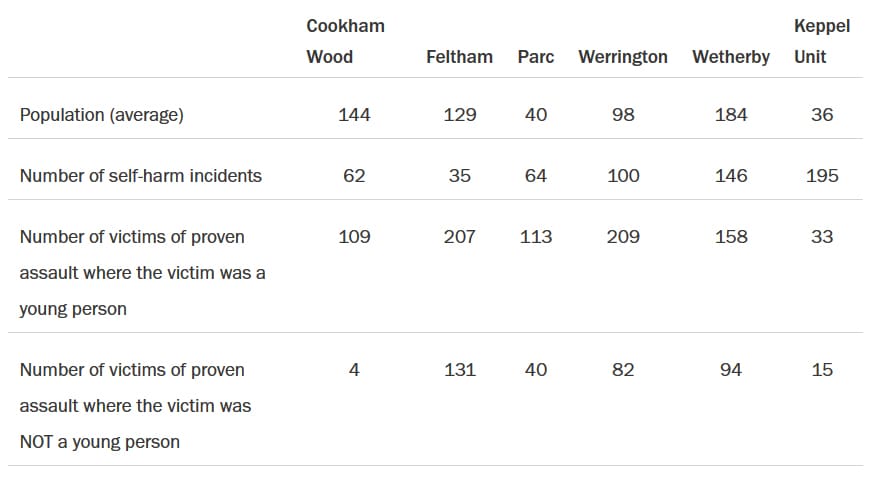 .
State-run Wetherby YOI's 184 child inmates experienced 146 incidents of self-harm. They were also on the receiving end of 158 incidents of "proven assault", though there's no detail on who committed those assaults. As a rate per 100, that's 79.3 and 85.9 respectively.
These numbers don't top the chart, though. The G4S-run Parc YOI in Wales recorded 160 incidents of self-harm per 100 and 282.5 proven assaults. There were 102 and 213.3 incidents respectively at state-run Werrington YOI. Keppel Unit shows abnormally high rates of self-harm at 542 per 100, but is a unit for high-dependency children.
Commenting on the report to the BBC, Andrew Neilson of prison reform charity The Howard League said:
These figures illustrate in graphic detail why prison is no place for a child
.Systemic violence
Children and young adults (some YOIs hold people up to age 21) don't only face acts of overt violence in prison. In November 2017, the government's own prison inspector said it found "far too many boys" were locked up in cells for more than 22 hours a day. This led to senior medical bodies calling for an end to solitary confinement. An October 2018 report by the Children's Commissioner suggests the practice continues. It said there have been reports of children spending "up to 23.5 hours" in segregated cells "for days and sometimes weeks on end".
Meanwhile, a 2016 report by prison inspectors focused on the problem of food in YOIs. It said letters from people inside youth jails described food regularly running out or portion sizes being too small. The inspectors directly received complaints about uncooked or undercooked meals. It concluded these were leading to a loss of dignity amongst inmates and concerns for "prisoner and staff safety".
The environment reflected in these reports and figures has led to widespread drug use. User Voice, a charity run by ex-prisoners, found that 85% of children in prisons they'd spoken to had taken drugs. It quoted one such child as saying drug use is "to suppress feelings and escape the world".
End Child Imprisonment
Jake Hardy killed himself at Hindley YOI in 2012. He was 17-years old at the time. It happened after bullying by prison staff and other inmates.
Consequently, Hardy's mum, Liz, helped start the End Child Imprisonment campaign. It was launched on 22 November and is supported by human and prisoner rights groups including Article 39, The Howard League, INQUEST and the Centre for Crime and Justice Studies. The campaign's goal is to "press for closure of England's child prisons".
Youth justice statistics for 2016/7 show 42.2% reoffended again within a year. Like adult prisons, YOIs' impact on changing behaviour seems very low. It's also worth noting that 45% of youth in custody identify as coming from Black Asian and Minority Ethnic backgrounds.
Burnett and Scott's assault at Wetherby YOI is despicable. But it's wrong to view the brutal attack as an isolated incident. The data shows children are going through hellish environments of stress, fear and violence on a daily basis. This isn't something that can be reformed. We must get all children out of prisons now.
1] THIS IS THE VERY SAME IMMIGRATION HOLDING FACILITY WHERE G4S EMPLOYEES LIED TO ME IN 2014 TELLING ME CHIWAR MUSA WAS BEING HELD THERE AWAITING HIS DEPORTATION FLIGHT BACK TO NIGERIA AFTER BEING RELEASED FROM HMP AFTER THE TOTALLY QUESTIONABLE 7 YEAR SENTENCE INFLICTED UPON HIM WAS SERVED. AFTER A HUNDRED MILE JOURNEY TO THIS CENTRE TO VISIT CHIWAR I EVENTUALLY FOUND OUT HE WASN'T THERE, AND MY OFFICIAL RECORDED DELIVERY LETTER CONTAINING THE COMPLAINT ABOUT WASTING £80+ IN TRAIN + CAB FARES TO + FROM THE CENTRE WERE LOST "IN THE POST" – MY COMPLAINT HAD THE AUDIO OF THE PHONE CALLS WITH THE CENTRE STAFF CONFIRMING CHIWAR MUSA WAS THERE, WHEN HE WASN'T. AFTER MORE COMPLAINTS TO ROYAL MAIL REGARDING THE MISSING RECORDED DELIVERY LETTERS THEY EVENTUALLY SENT A BOOK OF 1ST CLASS STAMPS AS COMPENSATION. OF COURSE, WE KNOW WHO WAS BEHIND THIS NONSENSE THROUGHOUT.
2]  I REPORTED AN OBESE G4S BOUNCER – WHO WAS EMPLOYED AT THE BOURNEMOUTH COTLANDS RD. DWP JOBCENTRE LOCATION – FOR IMPERSONATING DWP STAFF AT THIS BOURNEMOUTH JOBCENTRE A FEW WEEKS BACK – TOTALLY OUT OF ORDER. MY COMPLAINTS WERE TOTALLY IGNORED BY THE DWP, DWP MINISTERS AND ALL OTHERS WRITTEN TO, INCLUDING, OF COURSE, THE COWBOY FIRM "G4S" THEMSELVES. WHAT A WASTE OF TAX MONEY THIS FIRM ARE – EPECIALLY WITH THESE NEW REVELATIONS!
Undercover footage allegedly shows staff "mocking, abusing and even assaulting detainees" at a facility in Gatwick.
11:14, UK,
Friday
01
September
2017
G4S

, which manages Brook House Immigration Removal Centre in Gatwick, said an investigation was launched as soon as the allegations were made by BBC Panorama.
The programme claims to have undercover footage showing officers "mocking, abusing and even assaulting detainees" at the facility where drugs are allegedly "rife".
The 448-capacity centre for adult men detained under immigration laws opened in March 2009.
"There is no place for the type of conduct described in the allegations anywhere in G4S, " said Jerry Petherick, managing director for custodial and detention services.
"Such behaviour is not representative of the many G4S colleagues who do a great job, often in difficult and challenging circumstances, across the country.
"Once we have seen the evidence and concluded the investigation, I will ensure that we take the appropriate action." [yes, of course you will…NOT!…ed.].
Concerns were raised in a recent inspection which revealed that the average length of detention had increased from 28 to 48 days, with four men held there for more than two years.
The inspection also highlighted issues with the "stark and impersonal" residential units and unsatisfactory sanitary facilities, leading detainees to feel they were being held in prison.
The director of the immigration removal centre, Ben Saunders, said: "Inspectors rightly identify that the purpose-built design is stark in some places and work is already under way to address that, including improving the screening in bathroom areas.
"We will work closely with the Home Office, who own the buildings, to look at how we can further soften the environment, for example by making greater use of the art created by detainees, especially where it has achieved recognition from arts charities."
Overall the report by HM Chief Inspector of Prisons Peter Clarke in March said it was an "encouraging" inspection.
Brook House was deemed "reasonably good" in all four healthy establishment tests – safety, respect, activities and preparation for removal or release.
"We continue to focus on the care and wellbeing of detainees at Brook House," said Mr Petherick.
SEE MORE

:
"Callum Tulley was so shocked by the chaos, violence and abuse he saw as a detainee custody officer in an immigration removal centre, he decided to become a whistleblower.
Putting on hidden cameras for a BBC Panorama investigation, the 21-year-old exposes a toxic, brutal and failing environment, where self-harm and drug abuse are commonplace.
Ten staff and former staff have been suspended as a result of his allegations".
.