Undercover cop wants to right his wrongs and meet everyone he spied on
A former undercover cop who spied on more than 300 trade unionists, environmentalists and justice campaigners has promised to meet everyone of them to explain why he snooped on them.
Peter Francis worked for the Met's Special Demonstrations Division for five years but has now turned whistle-blower and is determined to right 'his wrongs'.
Francis made an emotional and rare public appearance last night in front of blacklisted construction workers at a meeting in the House of Commons.
He said: 'I did wrong. We all did wrong. I personally will meet any activist I spied on. Whether I blacklisted someone or spied on them, I will meet them.
'And I will explain to them why I felt it was justified at that time to spy on them.'
He added: 'Many years later I have problems justifying what I did. But I will explain historically where I was at that time and why I thought i was right to do it.
'I used the identity of a dead child. I must have spied on more than 300 people. And I know lives were damaged.'
Francis is going to be a major witness at the Undercover Policing Public Inquiry which has now been going on for four years but has yet to hear any evidence from witnesses.
However, the inquiry has revealed the extent of the spying with thousands of people being targeted including the family of murdered teenager Stephen Lawrence.
The former policeman was accompanied to the meeting by Labour Shadow Chancellor John McDonnell who has held him on his journey from undercover spy to whistleblower.
Mr McDonnell said: 'Whatever you think of what Peter did, what he has done here tonight is very brave and courageous.'
Hayes MP McDonnell also revealed he was spied on when he tried to get justice for a constituent called Ricky Reels who was killed 20 years ago.
He said: 'We were told the police did not have the resources to find out what happened to Ricky. But the police did have the resources, they chose to use them to instead of finding what happened to Ricky they decided to spy on his family who were looking for justice.
'Our campaign and I had been the victims of what the police officers described as "collateral intrusion".
'I had never heard this expression before but it was explained that the family's campaign for justice had come under surveillance and that undercover police officers had been attending our meetings.'
He added: 'Both the undercover spying on trade unionists and justice campaigners and the Blacklisting of construction workers are national scandals.'
Also at the meeting were two women who were tricked by undercover police into having long term relationships.
One of them, who legally can only be referred to as Alison, said: 'I was a teacher in the 1990s, and this man spied on me, and my mother, for years.
'I still find it difficult to come to terms with the fact that I was in relationship with a policeman and he was spying on me and those I knew.'
She added: 'Two Welsh women who also had relationships with undercover policemen have described it as state sponsored rape. I think I agree with that.'
.
.
A spycop sexually abused a woman for two years. But new documents reveal his cover officer is claiming ignorance.
On 3 October, undercover policing was back in the courts. Kate Wilson, who was deceived into a sexual relationship with Mark Kennedy, was at the Investigatory Powers Tribunal for a hearing over her case that Kennedy abused her human rights.
Part of the evidence Wilson is demanding is disclosure of how far up the chain of command knowledge of her relationship with Kennedy went. During the hearing, one of the tribunal panel members stated it was "inconceivable" that Kennedy's supervisors didn't know about his relationship.
But this statement comes just a day after a document published on the Undercover Policing Inquiry's website claimed that at a cover officer had no knowledge of the sexual relationships one of her officers engaged in.
.
Cover officers
According to the College of Policing, a cover officer has:
day-to-day responsibility for dealing with the UCO [undercover police officer] and their security and welfare.
One such cover officer is N30, whose risk assessment was published by the UCPI on 2 October. N30 was responsible for nine UCOs between 2004 and 2008. One of these officers was N104, Carlo Neri. Neri had a two-year relationship with a woman known as Andrea and even proposed to her.
N30 stated that no one to her knowledge was involved in a sexual relationship during her tenure.
Andrea said that Neri was "embedded in her family" and that:
He kind of made an effort to be in contact with them a lot … and they reciprocated because they liked him.
And yet the woman who had day-to-day responsibility for his actions claims to have no knowledge of the relationship.
.
"Inconceivable"
Speaking to The Canary, Andrea agreed with the assessment of the tribunal that it was "inconceivable" that Neri's cover officers and managers did not know about the relationship. She described what happened as "systematic, state-sponsored abuse".
She also said that the disclosure created even more questions, especially regarding a woman who used to call regularly to speak to Neri:
In light of the revelation that one of Carlo's key cover officers was a woman, I now question who the woman on the phone was… it clearly wasn't his sister.
Disclosure
The police admit they hold 10,000 documents on Wilson. The police are desperately trying to keep those documents from her. Arguments made at the hearing included money:
"The disclosure will cost hundred of thousands of pounds, and the Met Police funds are finite, under a great deal of pressure…" Police Lawyer


Interrupted by Judge with some distain for the point being made.

#

spycops
That they still haven't found all the documents:
"there are difficulties, there are materials yet to be located, yet to be researched, something has to be done in a practical way" – Perry


It is amazing how difficult any form of

#

spycops

disclosure has been for police
And finally, that they need more time:

Wilson, Andrea and everyone spied on needs full disclosure of police documents. And this has to include information about cover officers, line managers and however high up the policing hierarchy this abuse goes. It is clear that the victims of undercover policing cannot trust the selective information given to them by the police.
Nothing justifies what the police have done to political campaigners and they need to come clean. These officers, their managers and whoever else knew about their actions need to be held to account. Enough is enough.
The Canary contacted the Metropolitan Police for comment but had received no response by the time of publication.
The author is a core participant in the Undercover Policing Inquiry
.
Get Involved!
Featured image via author's own
Become a Canary member to support fearless independent journalism
Friday, 23 February 2018
Ex-police spy berates Met for revealing her role in mink release -'Christine Green' took part in Animal Liberation Front raid during undercover work in 1990s

—————————————————————————————————————
Ex-police spy berates Met for revealing her role in mink release
'Christine Green' took part in Animal Liberation Front raid during undercover work in 1990s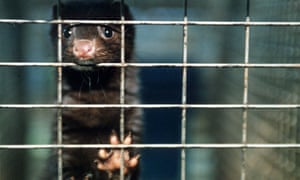 A former police spy has said senior officers should hang their heads in shame for their "scandalous" conduct after they disclosed that she helped protesters to release thousands of mink into the New Forest.
The Metropolitan police revealed on Tuesday that the undercover officer, who used the fake identity of Christine Green, had taken part in a raid that released as many as 6,000 mink from a farm while she was pretending to be an animal rights activist.
Green has now come forward and criticised the Met for naming her while concealing the identities of the senior officers who had authorised her to take part in the raid. "That seems like double standards to me," she said.
She wrote in a statement: "That the current senior management team at the Metropolitan police has chosen to expose my role, knowing the vilification and furore that would follow in the 'trial by media' whilst being fully aware of my ill-health issues, is scandalous. It is the Metropolitan police, not I, who should be holding its head in shame."
Green spent five years as a member of the Met's covert unit, the special demonstration squad (SDS) in the 1990s, pretending to be an animal rights activist.
Her deployment was revealed on Sunday after investigations by the Guardian and campaigners. Since quitting the Met in 2000, she has had an intimate relationship with one of the prominent animal rights activists she had been sent to monitor. They have lived in remote cottages in Cornwall and Scotland.
In her statement, she offered her heartfelt apology to "those activists who I was closest to and who befriended me, opening their lives and homes to me". She said she had "made some of the best friends anyone could ever want, people who without hesitation put their liberty and sometimes their life on the line for me. I am certain they know who they are."
The Met revealed on Tuesday that Green had taken part in the Animal Liberation Front raid that released the mink from a farm in Hampshire in 1998. The raid caused problems in the New Forest as residents and farmers struggled to prevent the animals killing pets and livestock.
The Met publicly apologised to Hampshire police for concealing Green's involvement in the raid and its knowledge of the culprits from them. Hampshire detectives conducted a criminal investigation, but did not charged anyone.
In its apology, the Met did not disclose the identities of Green's superiors who had authorised her to "participate in a criminal act", other than to say that the decision could have potentially gone as high as the rank of detective chief superintendent.
Green said she had not acted as an agent provocateur during the raid. "My role at the time, which was consistent with my understanding of the aim of the SDS, was not to entrap any individual or gather evidence to bring about a prosecution, but to gather intelligence over a longer period of time, so that those planning or undertaking serious criminal activities could be thwarted," she said.
"The Metropolitan police has told me that I am not being criticised for my role in the mink liberation and am not being treated as a suspect."
The Met had not commented by the time of publication.
see more

:
More Spycops Named, But WhoWas Spied On?
.
Related

:
.
UNDERCOVER POLICING ENQUIRY UK: "Why is undercover officer N109 so afraid?

" #spycops
ANDY COLES – #sackandycoles #spycops + JANET ALDER + UNDERCOVER COPS: "The Women Activists Who Fell In Love With Police Spies And Are Still Waiting For Justice"

 VIDEO
ROGER PEARCE aka THORLEY

#spycops +

UNDERCOVER COPS: An inquiry just revealed how far the British state will go in its secret war on citizens + OVER 1000 POLICE HAVE CRIMINAL RECORDS + "True Spies"

 VIDEO

.

TRUE SPIES – full series –

VIDEO

.

"SNOOPERS CHARTER RULED UNLAWFUL" + #spycops ["Undercover Policing" abuse] + GCHQ SPYING, SNOWDEN, MASS SURVEILLANCE + more

05 Feb. 2018

.

 ——————————————————————————————–

FAIR USE NOTICE: This item may contain copyrighted (© ) material. Such material is made available to advance understanding of ecological, political, human rights, economic, democracy, scientific, moral, ethical, and social justice issues. This constitutes a 'fair use' of any such copyrighted material as provided for in section 107 of the US Copyright Law. In accordance with Title 17 U.S.C. Section 107, this material is distributed for analysis, commentary, educational and intellectual purposes. In some cases comedy and parody have been recognized as fair use. 

 Creative Commons Attribution-NonCommercial-ShareAlike 3.0 Unported License. For more information please visit: 

NB: DISCLAIMER: Everything posted on this site conforms to the meaning of the word "alleged" as defined under UK and US Laws and Statutes.