Shrimpton Appeal judgement 2019 = 
Olympic bomb hoax barrister fails in disbarment appeal
A barrister and former part-time immigration judge jailed for falsely claiming that spies were plotting to detonate a bomb at the London Olympic Games in 2012 has failed in his appeal against the decision to disbar him.
In Shrimpton v Bar Standards Board, Mrs Justice Jefford DBE ruled the decision to ban Michael Shrimpton from practising as a barrister 'was not wrong and nor was there any serious procedural error that rendered the decision unjust'.
Shrimpton was convicted of communicating false information and jailed for a year in 2015. A year earlier, he was also convicted of an offence contrary to the Protection of Children Act 1978 and sentenced to a three-year supervision order.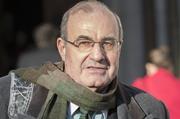 During the trial for the 2014 conviction at Aylesbury Crown Court, the barrister, called to the bar in 1983, said that secret service agents planted the images on his computer memory stick in a plot to discredit him.
The bomb hoax was made in April 2012. Shrimpton, according to the judgment, had a telephone conversation with a man referred to as Mr Burton, private secretary to the then Secretary of State for Defence in which he said that one of four thermonuclear warheads retrieved from the Russian submarine, The Kursk, was being held in East London. The Kursk sank in the Barents Sea in 2000.
The following day Shrimpton called a political agent of David Lidington MP, then a Foreign Office minister. Shrimpton, on his own account, said the purpose of the call was to set up informal drinks at the London residence of the Foreign Secretary at which the Russian government could verify the intelligence about the nuclear warhead, whilst preserving deniability.
He was disbarred in September last year.
According to the judgment Shrimpton – who appeared as a litigant in person – has applied to the Criminal Case Review Commission to have his conviction on the bomb hoax referred to the Court of Appeal and has asked for a Royal Pardon, without success.
Jefford J said the tribunal correctly opted not to re-run arguments already heard during his trial.
'Shrimpton appears to believe that he can endlessly adduce further evidence and that the mere production of such evidence is sufficient to mean that the Tribunal ought to have gone behind his convictions and considered all matters afresh. That is unsustainable,' Jefford J said.
.
.
more:
.
Michael Shrimpton "The Novichok Agent Used  The Skripal's DID Come From Porton Down 

Lab!"